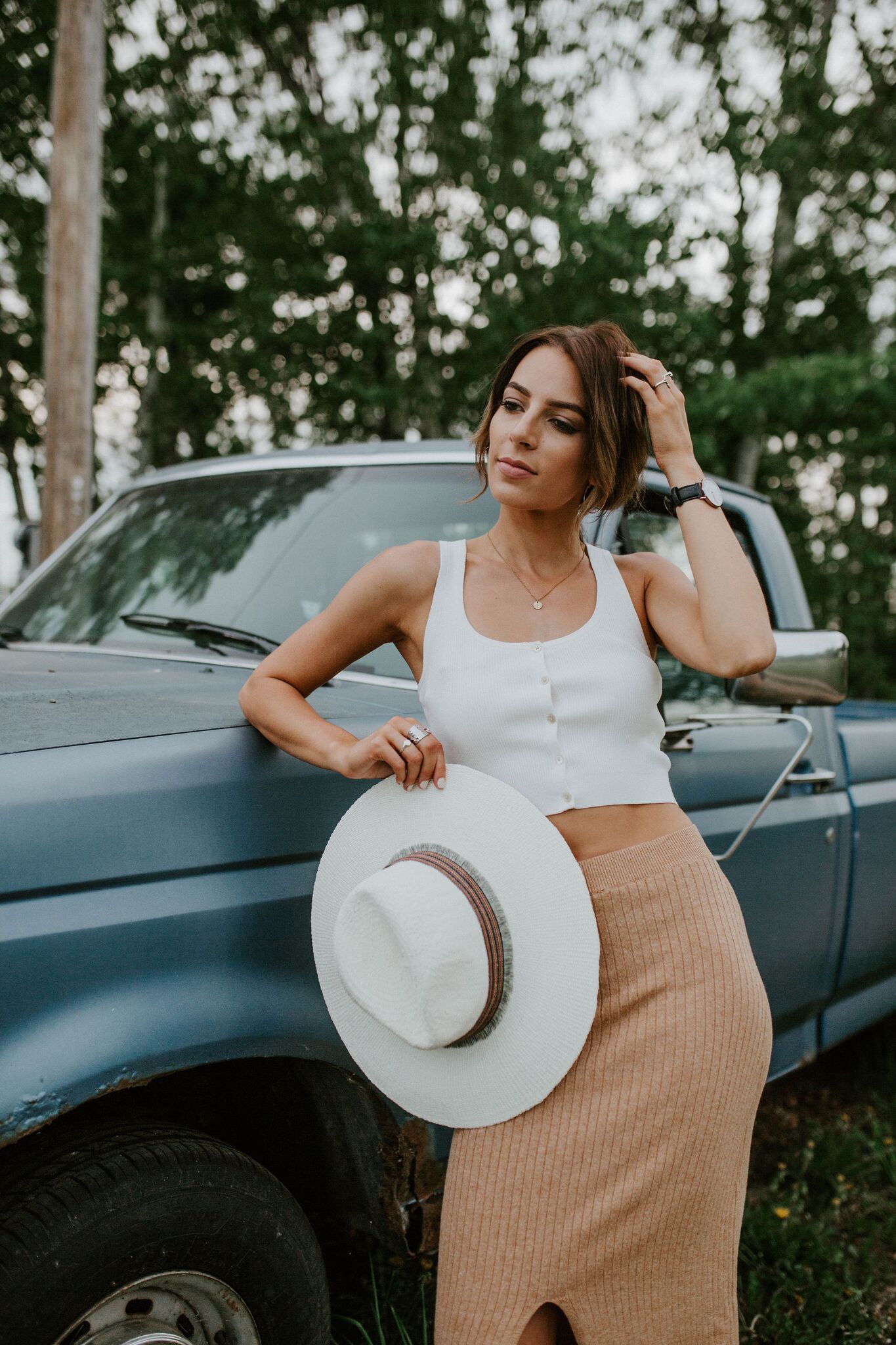 All Things Beige
As far as trends go, I usually try them in their most classic form possible.
The odd statement piece is typically as far as I've gone when it comes to embellished, exaggerated or "eye-catching" glam.  I've expressed many times my love for a neutral-toned pallet.  I look toward designers or fashion icons whose classic wardrobe choices have made a mark on fashion that will not fade.  And that mindset has definitely been acknowledged globally over the last few years as simplified, street wear has taken over.
For some, however, the idea of a neutral pallet may still feel unimaginative…but I believe the term neutral may hold the opportunity for much more creativity than one might think.  In fact neutral pieces rely solely on the construction of the garment.  The quality of craftsmanship and choice of textiles is enhanced as there is nothing to distract the eye.
Perhaps that is the elegance. . .
For quite some time, I have kept my dark, black hues close amongst their many shades of grey counterparts.  And don't get me wrong, they won't be going anywhere.  But there is one trend that has been catching my eye as it continually fills my social media feed.
COULD IT BE THAT 50 SHADES OF BEIGE IS WHAT'S HOT?
I'm here to say absolutely!  And I couldn't love it more!
The sandy, monochrome hue has been dominating runways and now wardrobes this 2019.  And I mean from head to toe!  Top makeup artists are also sticking to a natural skin-toned pallet.  Pairing this beauty look with a tan ensemble gives the illusion of an almost nakedness.  When done right, it can be a very stunning look.  Kim Kardashian's 2019 Met Gala look pictured here is a perfect example.
Now getting in on this trend doesn't mean you have to go all out with a silicon, flesh-toned dress such as Kim's.  Start small and find what works for you.  I love white/cream tones and feel confident that they compliment my skin tone.  This was an easy colour to pair with this new fawn-coloured midi skirt from Free People.  However, I know this won't be the only beige ensemble you'll be seeing from me.
Have more questions on how to make the 50 Shades of Beige work for you?  Check out this great video! → Tips For Every Skin Tone, Hair Colour & Style | How To Wear Beige
"Elegance is not about being noticed.  It's about being remembered."

– Giorgio Armani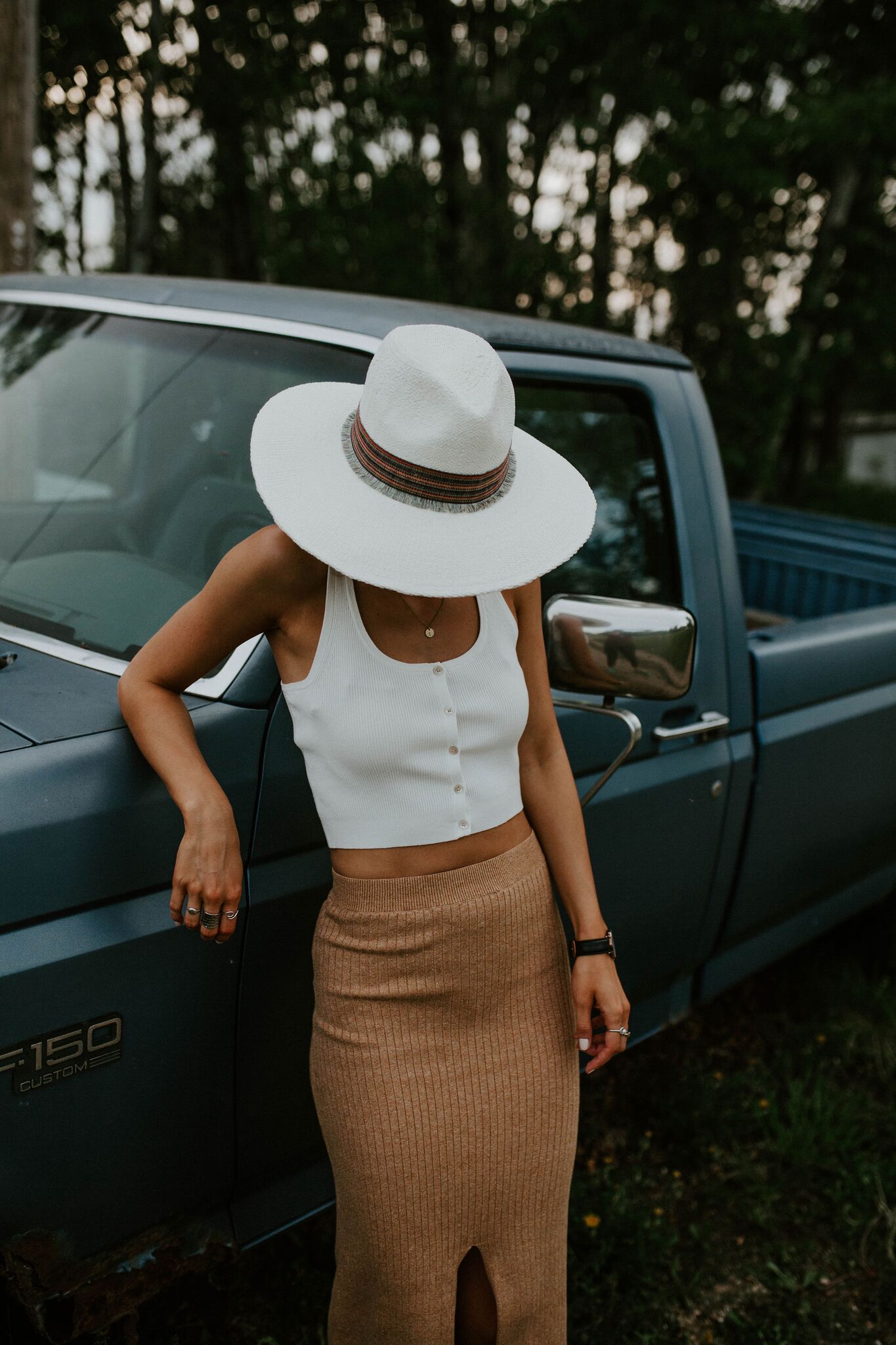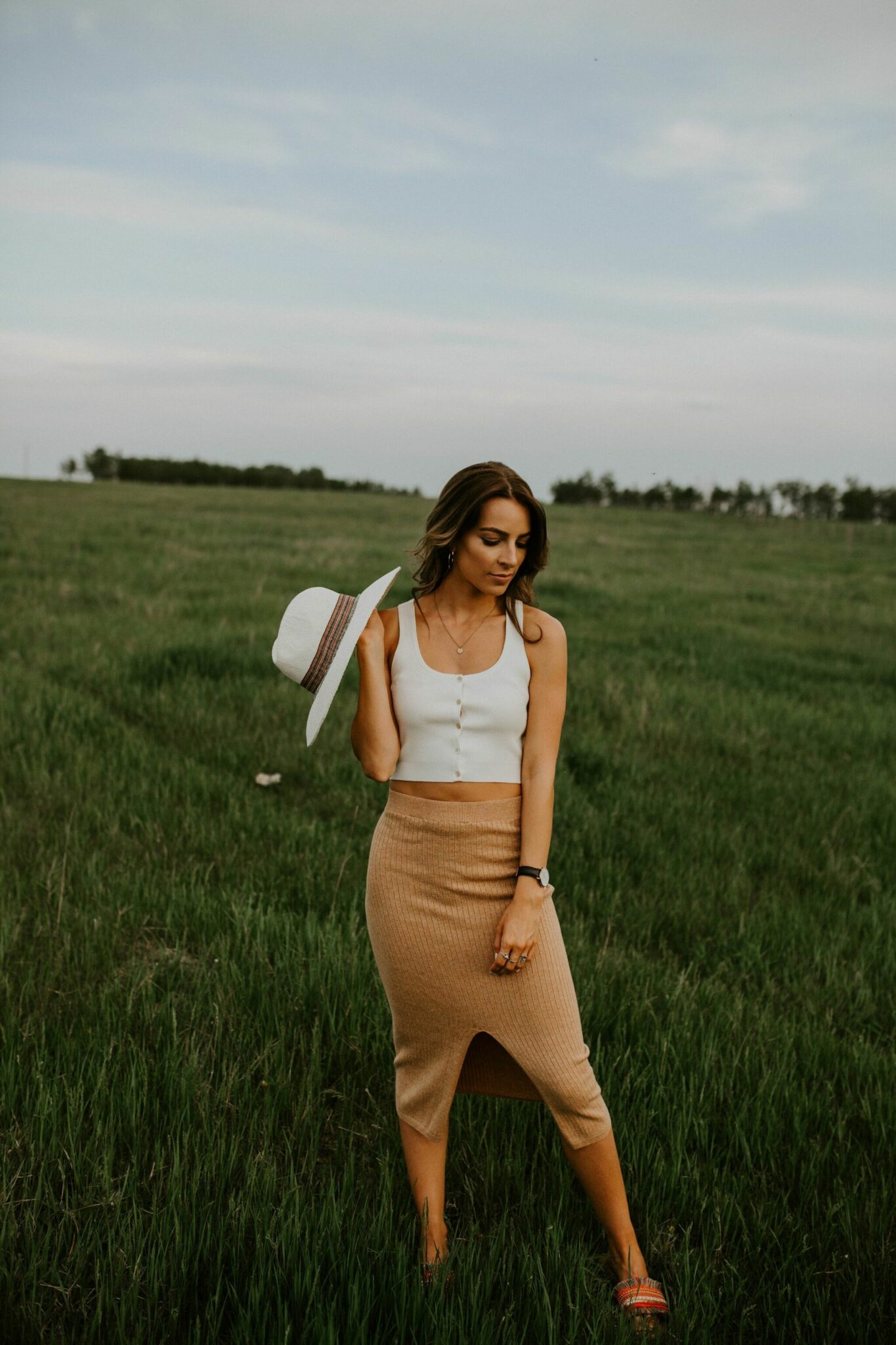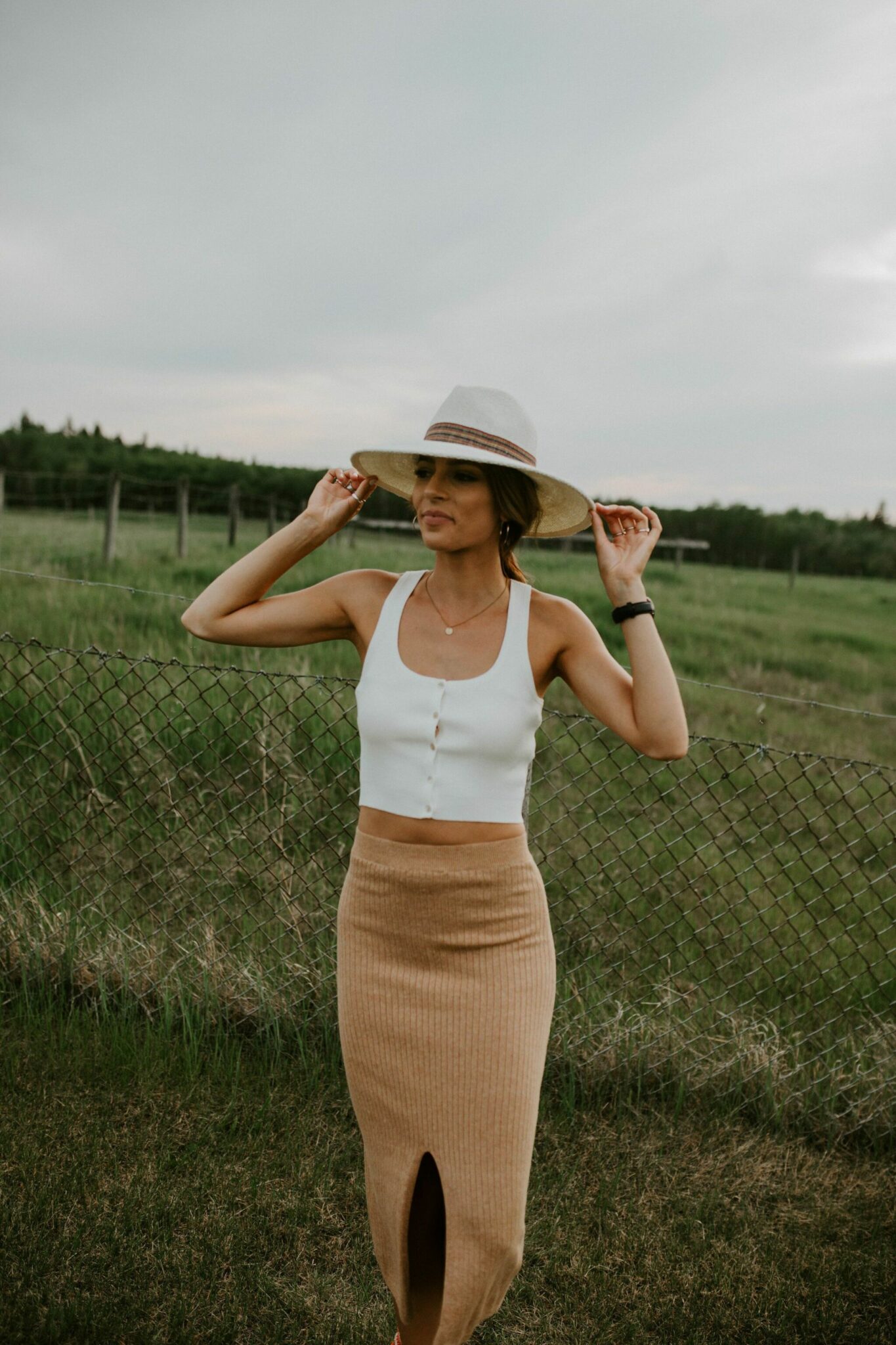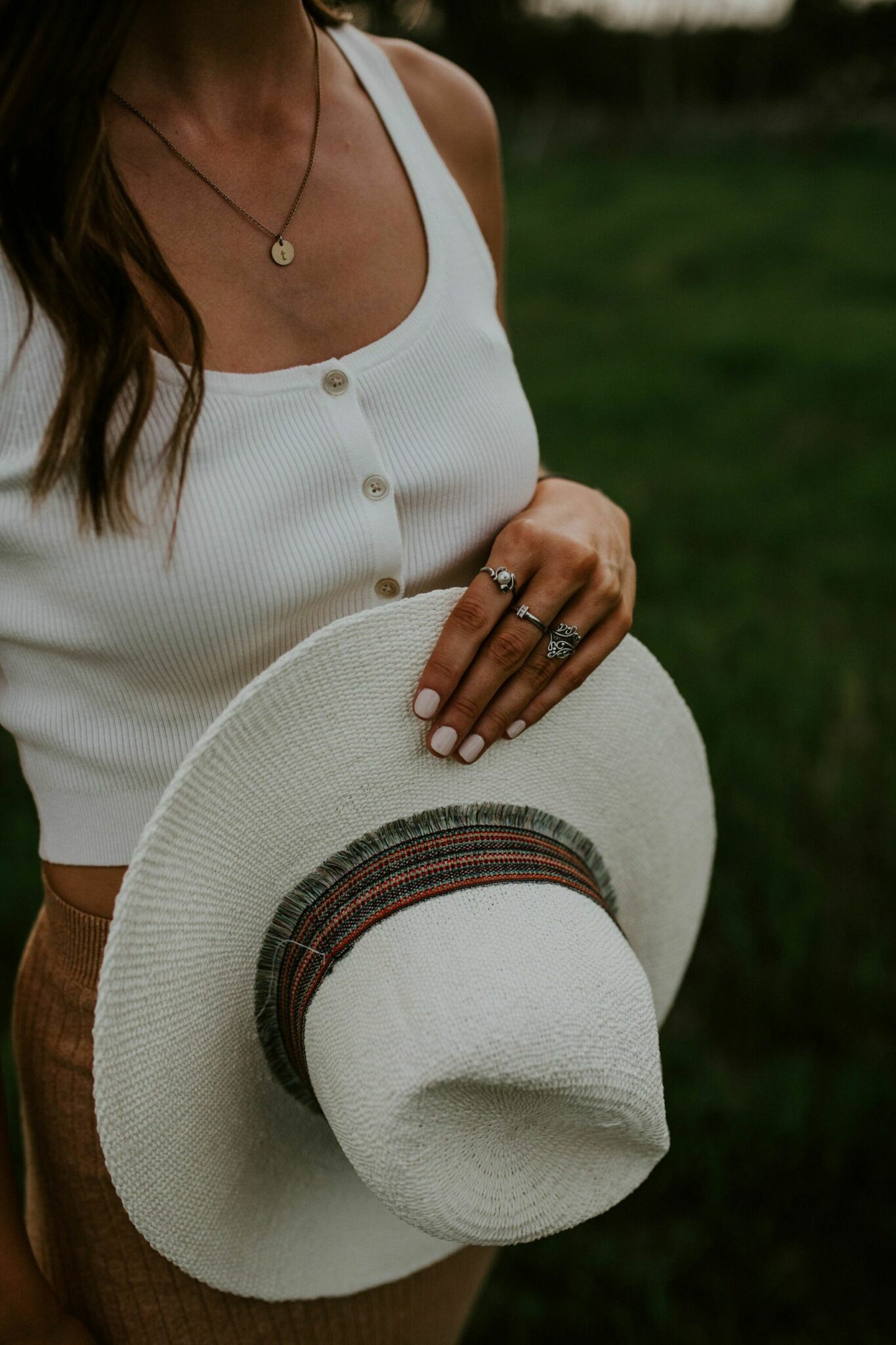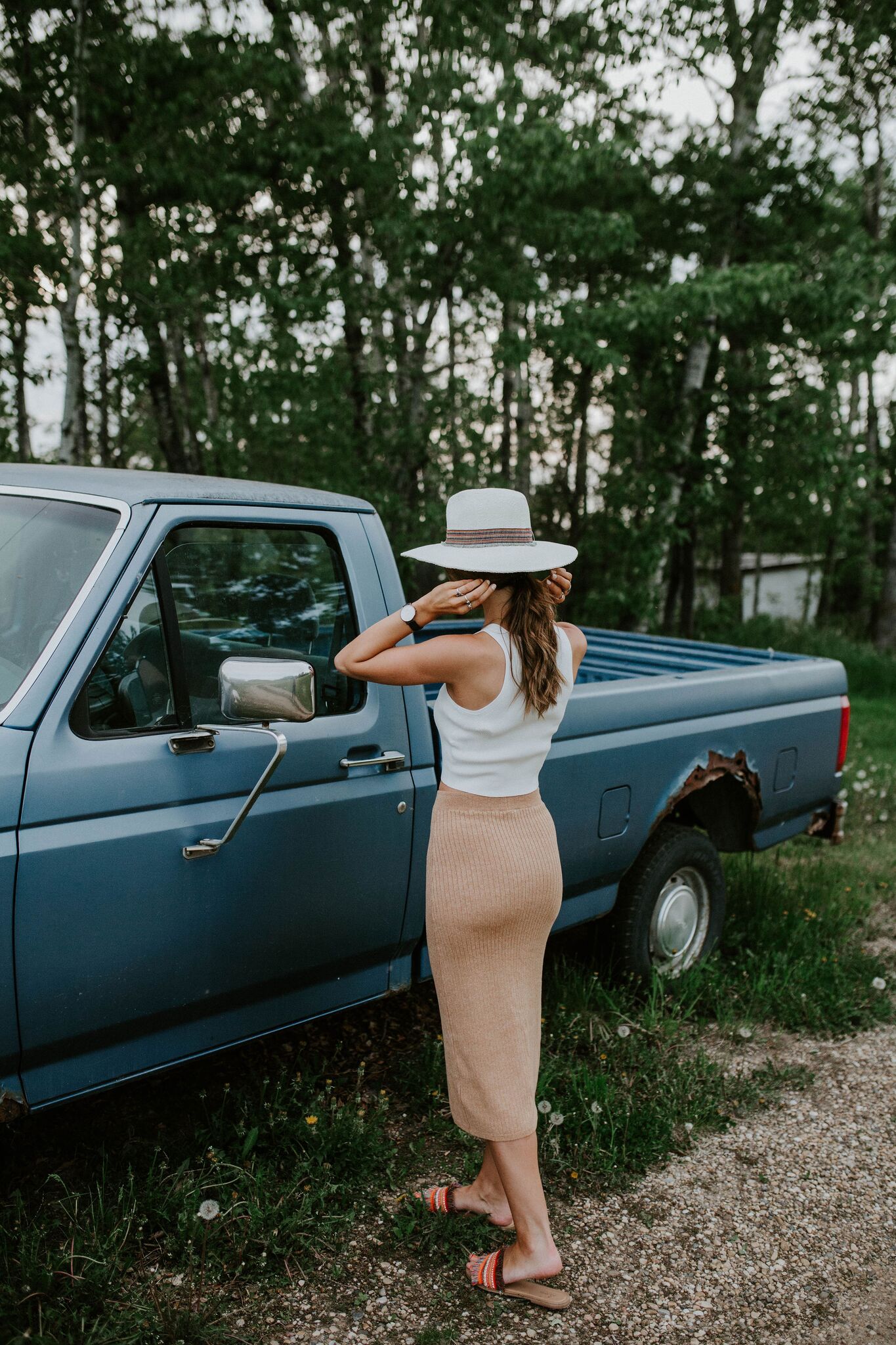 SHOP THE LOOK! ↓
Top: WILFRED SWEATER TANK
Skirt: FREE PEOPLE SKYLINE MIDI
Shoes: ALDO CASTLEROCK SLIDE (similar)
Hat: RAG & BONE WIDE BRIM HAT (similar)