MY GO-TO SUNLESS TAN
It's vacation time!!  Tomorrow, I will FINALLY be leaving for my trip to the Philippines!
It feels like I've been waiting for this vacay for so long, I can't really believe that it's actually here. I'm honestly pretty happy with any opportunity to escape the snowy/winter months but what better way than a trip to South-East Asia.  Obviously a trip like this will mean A TON of time in the sun…something my skin has not seen in quite a while.  I used to be the person that would go to the tanning bed all the time to get a bit of a base, but we all know about the damage tanning beds can cause.  Wrinkles are so NOT worth it!
So…I've tested out a few different sunless lotions and bronzers over the years-really anything that would just give my skin a hint of colour.  While it can be pretty easy and convenient to just apply a quick lotion, I don't find it gives you huge results.
Recently I found Loving Tan and I have become slightly OBSESSED!
I started using this Tanning Mousse and it's SO amazing (pretty much a spraytan in a bottle).  It's definitely not hard to apply, but it is a bit more time-consuming than a regular lotion, so I tend to only use it for specific/special occasions.
Side Note*** Loving Tan products are Aloe-based and free of parabens and alcohol.  
FOLLOW MY APPLICATION STEPS BELOW!

HOW TO ACHIEVE THE BEST SUNLESS TAN
EXFOLIATE / SHAVE:
I always make sure I shower before I tan. Exfoliating and shaving really well will remove all dry and dead skin which has to be the biggest necessity for a flawless tan.
MOISTURIZE:
I usually apply moisturizer to all the common dry spots on my body such as, my face, underarms, elbows, hands and knees.  This will provide a light barrier so the product will not over-collect in those areas.
APPLICATION:
When I start to apply the product, I usually begin with my legs and then work my way up.  I also tend to work in sections and I use about 1-2 pumps of product per section.  It's actually best to use more product than not enough, as you want to make sure you thoroughly cover the area which will avoid streaking.  For example, I apply one pump to the glove and apply that to my calf and blend down my foot.  I then use another pump for my thigh and blend over my knee,  etc.  
DEVELOP:
Always make sure to let your tan develop the full amount of time that the product recommends.  I have tried to rush it before and it's never worth it.  If you wash it off too soon the product will just rinse away leaving no tan.  I usually tan at night before bed, so it  has lots of time to develop.
RINSE:
Tanning at night makes it pretty easy to just wake up the next morning and shower the product off.  Although, it is important not to use any additional products or soaps at this time.  However, I usually do wash my hair and I don't find that the shampoo has affected my results in any way.
RE-MOISTURIZE:
Moisturize right away after rinsing off in the shower and at least once daily after that.  Keeping your skin smooth and hydrated will prolong the life of your tan.
Continue Below For My Favourite Loving Tan Products!
Happy Tanning!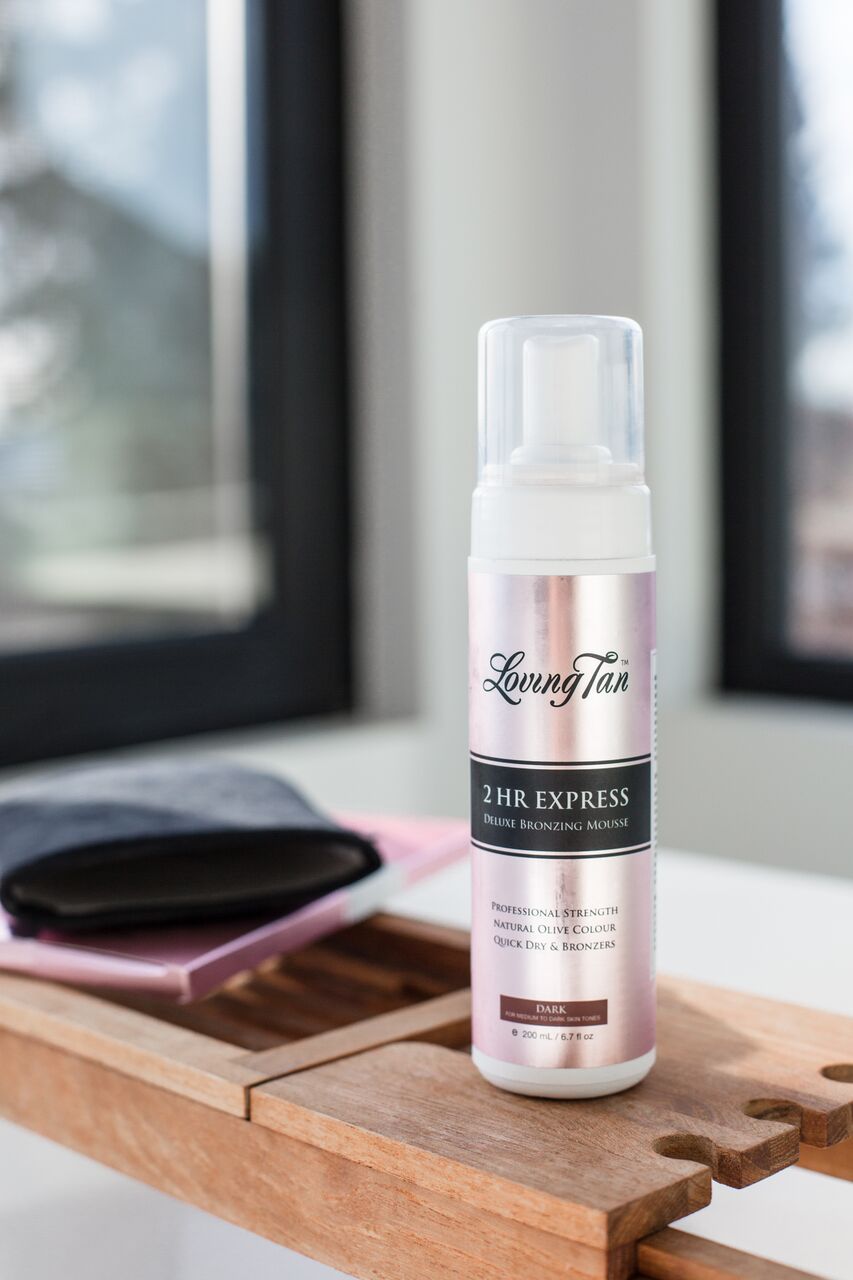 SHOP LOVING TAN! ↓
Loving Tan:  2 HR EXPRESS MOUSSE DARK
Loving Tan: DELUXE APPLICATOR MITT