Trend Alert | The Belt Bag
The "Belt Bag" aka the "Fanny Pack" is…back?
To be honest, I can't really believe that I'm on this topic.  If you had told me years ago that people would be wearing this accessory again and that it would be considered a stylish touch to your outfit, I would have thought you were insane!!  For most of my life, this look was reserved for that "nerdy" uncle, matched with cargo shorts and socks and sandals…definitely not something I pictured ever owning in my own wardrobe.
But it's true!!  The Belt Bag is definitely in!
That's the crazy fact about fashion – most styles will eventually come back around full circle.  Lately, I've been noticing that clothing styles are looking like some sort of mishmash from the 70's to the early 2000's.  Just the other day, I walked by Forever 21 and I couldn't believe the 70's-inspired tops and sweaters in the window, not to mention the 90's jeans we are all in love with again.
The question is, which trends do you get on board with?  As someone who likes to keep things pretty classic, I'm usually not the first to jump on the latest fad.  However, there are certain looks that are way too fun to pass up.  That's why I had to give the belt bag a go (just to spite my childhood self).
HOW DO YOU WEAR THE BELT BAG & HOW DO YOU KEEP THE LOOK MODERN?
First of all, I'm going to say to stick with high quality fabrics.  Leather was my first choice.  I think it's important to go for something that still resembles what you look for in a standard handbag.  I opted for a soft, genuine leather with a sleek, modern cut and a touch of metal detailing – definitely a similar style to many of my handbags.
The next, I would say is to not go for anything too large or bulky at first.  I tried on several bags that I didn't purchase due to the fact that they stuck out quite a bit…very popular – don't get me wrong but not quite what I was comfortable in.  I loved this sleek, narrow-fitting bag that sat nice and close on my hip.  It was actually very comfortable to wear and I can totally understand the practicality of being hands free.
Lastly, to help keep this look modern, I would always match the belt bag with a classic, simple outfit.  For this look I paired it with well-fitted denim and a blazer.  I also think it looks great with a flirty summer dress.    
SO…How do you feel about this come-back?  Will you give the belt bag a go?  Continue below for My Top 3 Favourite Styles!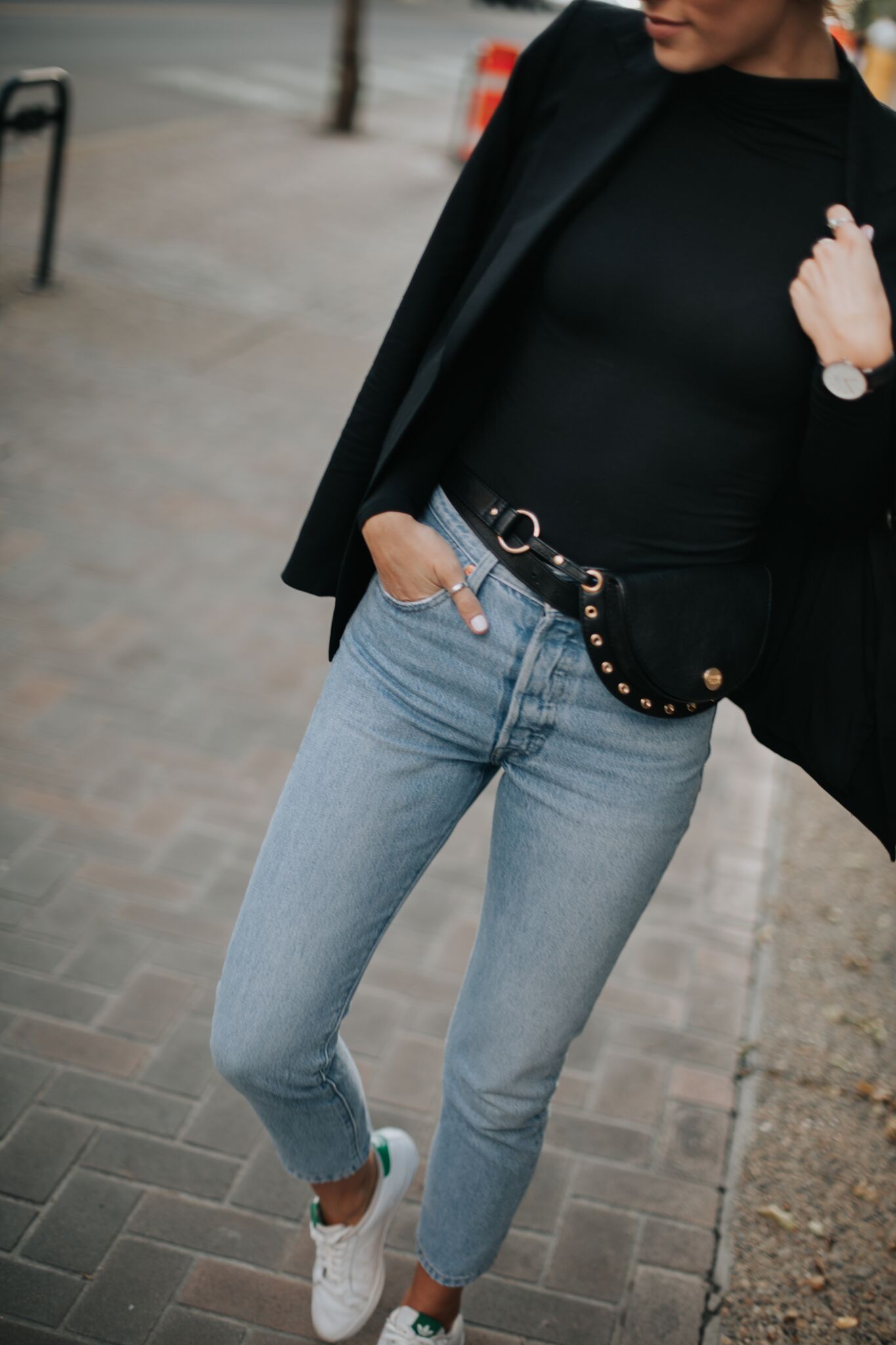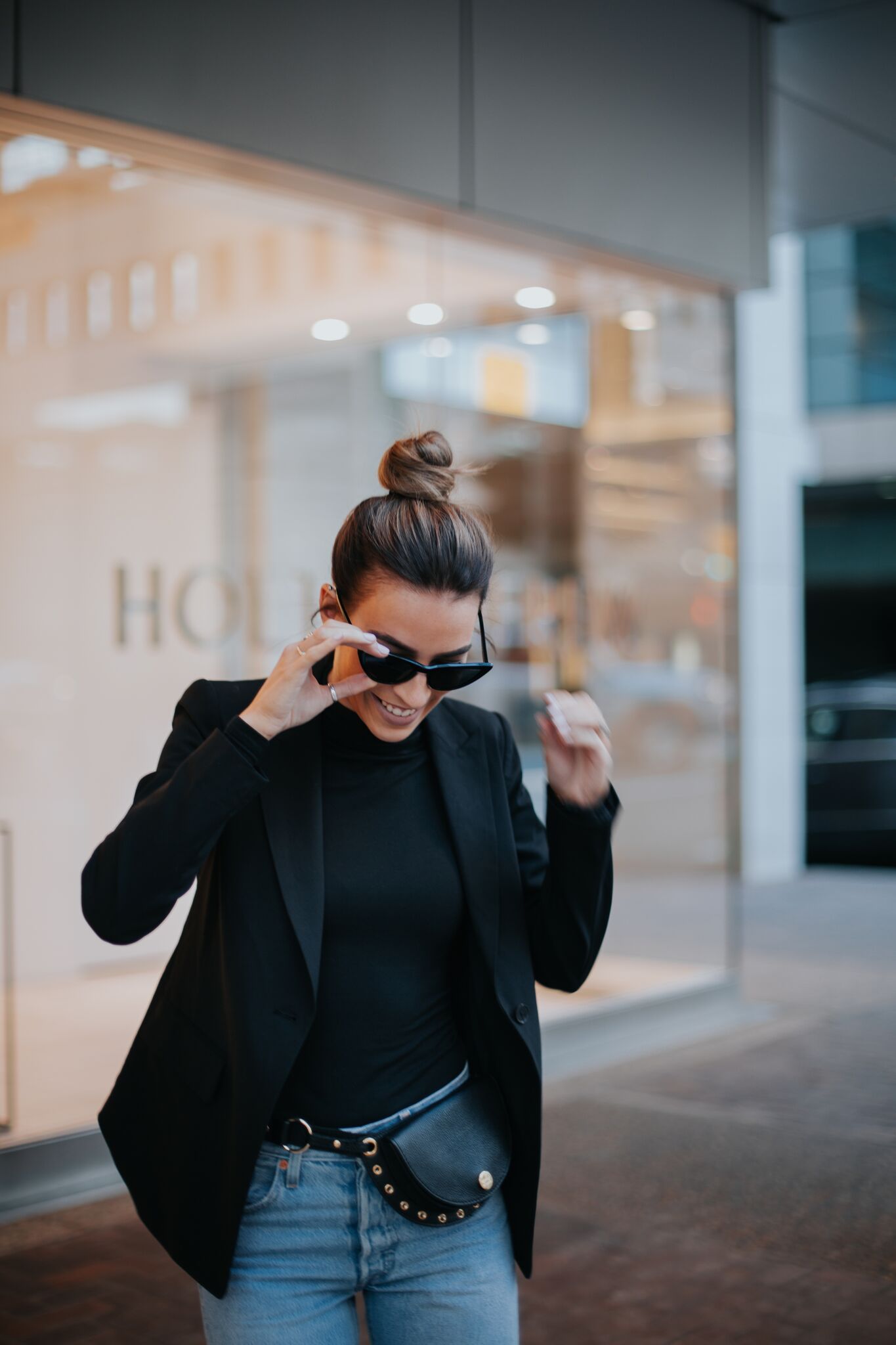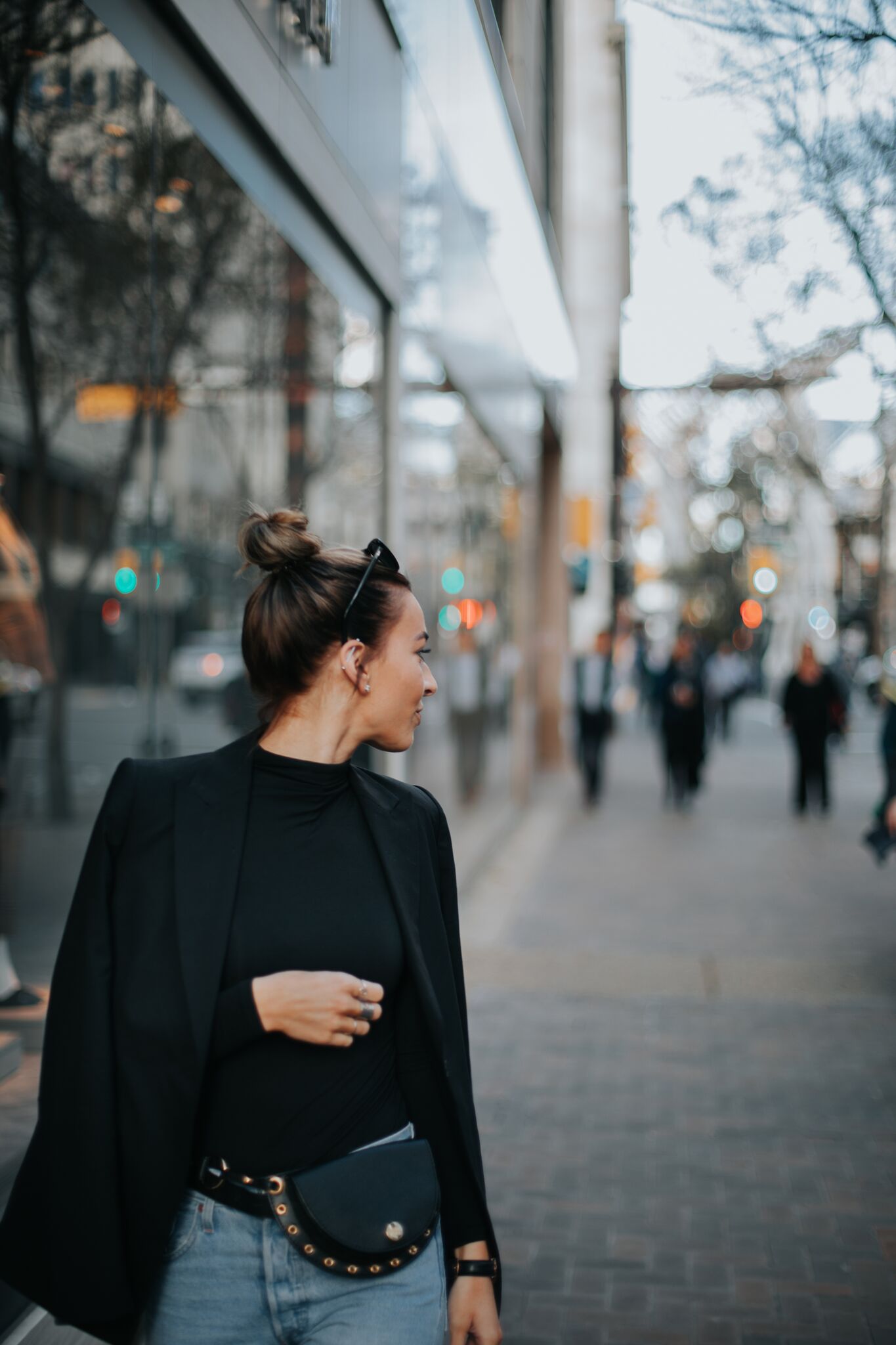 SHOP MY 3 FAVOURITE STYLES!
See by Chloé Kriss Convertible belt bag