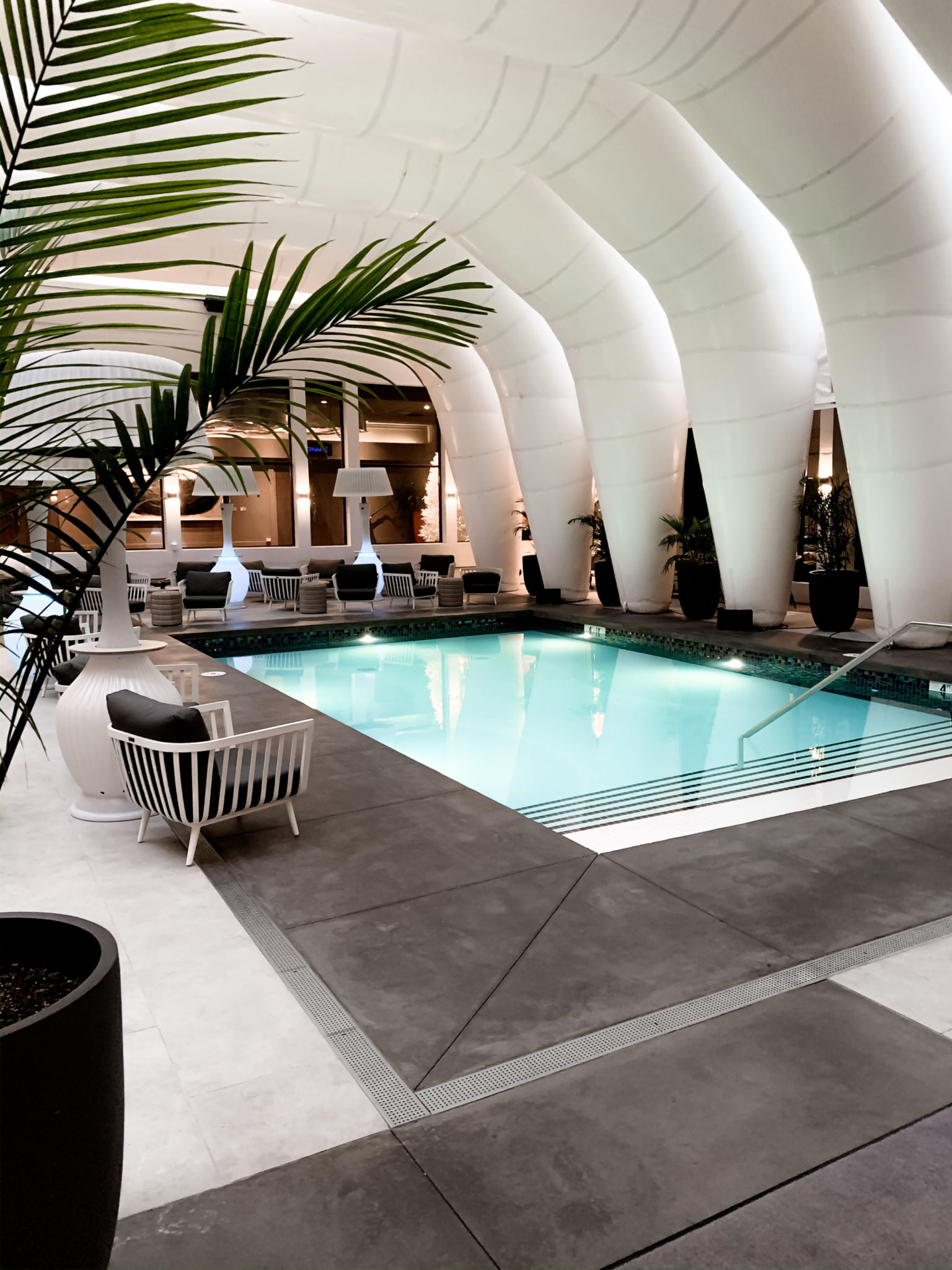 A Staycation at Calgary's Hotel Arts
Vacation or Staycation?
I recently had a bit of both at Calgary's Hotel Arts. 
The obvious vacation typically means a break away from everyday life and the hometown norms.  And hopefully a chance at some nicer weather than Calgary normally receives in January.  I can definitely say I've been very lucky to vacation in some amazing places over the last few years.  But with always traveling to somewhere new, it means it's pretty easy to miss some great little gems right next door. 
And Hotel Arts is exactly that…a gem!
I'm actually so happy I took some time to check out what's in my own city.  I'm now able to share a few things about this great spot – for those in the Calgary area also looking for an easy getaway, as well as those visiting the city for the first time. 
I can honestly say that Hotel Arts puts some serious thought into all of their decor and overall "vibe" from the moment you walk in the door.  However, the outdoor pool which is covered during our cold winter months is the obvious main attraction.
And it can quite literally sweep you away from the snowy, Calgary chill and give a bit of that vacation feel.  
Hotel Arts actually hosts numerous events/pool parties all year round which have included a New Year's Eve party, fundraisers, the 107th Grey Cup viewing and several more.  Go check out their Instagram @poolsideyyc for more party updates.
NOW…DETAILS ON THE REST OF THE HOTEL!  
The location I stayed at has two main restaurants; Raw Bar which serves a Vietmodern cuisine and quality cocktails (the menu is also located at the pool deck), as well as the award-winning, Yellow Door Bistro which serves bistro-style breakfast, lunch and dinner. 
I was able to dine at both and was very happy with the dishes I received. 
The Ahi Tuna Tacos at Raw Bar were pretty amazing, I highly recommend…if raw tuna is your thing.  
The Hotel rooms were clean and simple with all your standard amenities.  One of the small but noticeable details was all the beauty product amenities from Skoah – a quality Vancouver-based skincare line.  My particular room also had a bit of an edge as it was on the top floor and showcased a killer, skyline view of downtown Calgary. 
All in all, I had a great experience at Hotel Arts and would happily return for another staycation.
P.S. For those interested in booking at Hotel Arts, they are offering a "Shop, Dine and Stay" promotion over January.  This offers guests (each night they stay) a $50 gift card for The Core, Chinook Centre or Cross Iron Mills, as well as a $50 gift card to a restaurant with the Concorde Group (National, Bridgette Bar, Double Zero, etc…).