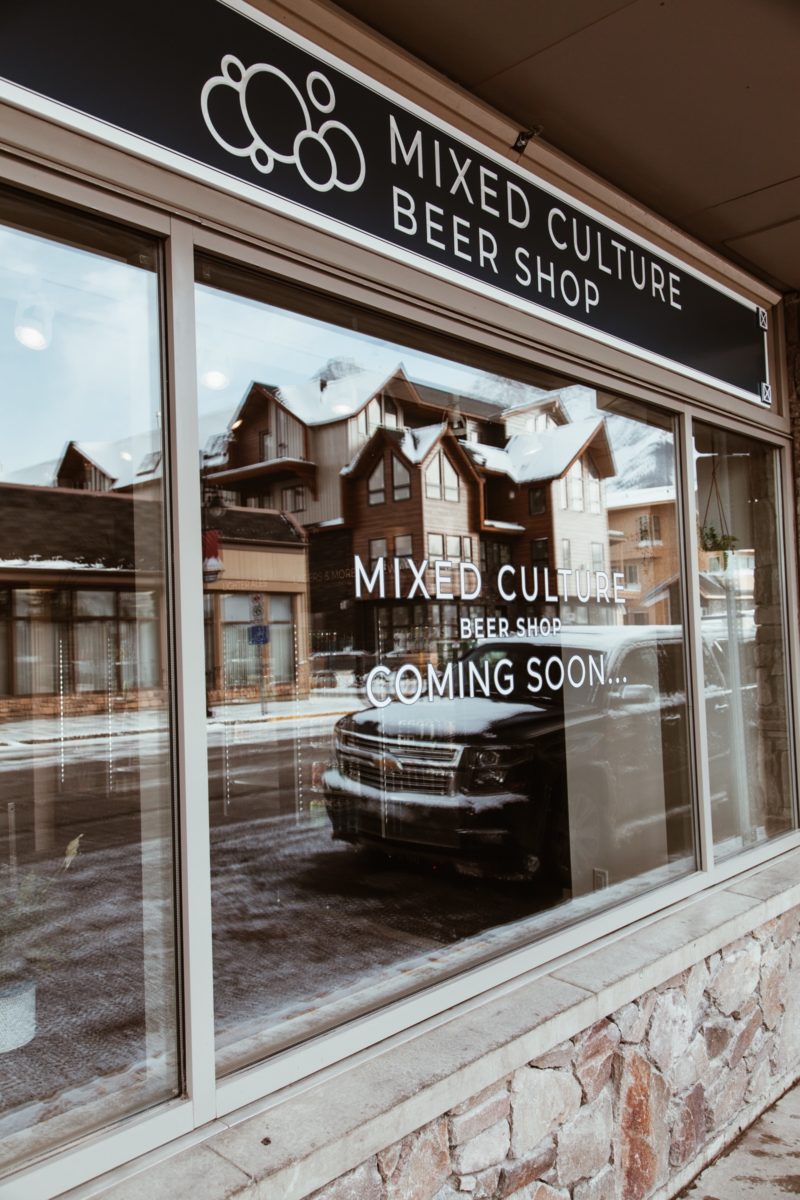 New In Town | Canmore Welcomes A New Craft Beer Shop "Mixed Culture"
Okay…so you guys know that I love giving reviews of my favourite products, places to stay and little spots to shop.  Well this review is extra exciting as the owner of this shop is one of my very own fam.
My brother-in-law, Joseph Anania has opened up a brand new craft beer shop in downtown Canmore that you seriously must check out on your next trip to the mountains!  I say this very confidently as he is very well-known in the family as a total beer enthusiast.  We have gone to him for advice for many years now as he always knows what's best…and that's definitely not limited to just beer.  He's incredibly knowledgeable on all things food and drink so be prepared to receive some serious expertise on your visit.
SO WHY MIXED CULTURE?  HERE'S WHAT JOE HAS TO SAY!
Honestly, it's my favourite style to drink. Along with spontaneous fermented beers, Mixed Cultured ales have this uniqueness to them that in a way, represents what I stand for when curating beer. Using these proprietary house cultures allows the brewery to offer beer that is one-off and practically impossible to replicate. Differentiation goes a long way these days in the beer industry and I hope to bring something a little bit different to the Bow Valley through my humble little beer shop."
Mixed Culture Beer Shop offers a wide selection of Lagers, Light and Dark Ales, IPA's, Sours, Stouts and a whole section dedicated to the latest and freshest arrivals.  He is even offering a selection of seven rotating draft beers that are sold in a Crowler can (not sure what that is? see photo below).
For those who know me, yes I am Celiac so unfortunately I haven't been able to sample all the incredible looking beer…and they do look incredible! (I helped unpack his first shipment and it was very impressive).  Luckily, he is also offering a selection of Glutenberg which in both our opinions is one of the best GF beer available.  There is also cider and a very thoughtful selection of wine, bubbles and spirits.
So there's a little something for everyone!
I also want to point out that Joe is very passionate about supporting local.  He has selected most of his product from local breweries across Alberta and parts of Canada, which I feel is SO important to be aware of especially in this time that we're in.  So get out there and grab a beer!
Cheers!